Easy-to-Use & Industry Agnostic
More than a Category Management Software
Augmented Strategic Procurement

Category Management & BEYOND

Collaborative Workflow

AI powered Market Intelligence

Procurement with Purpose
Empower Your Procurement Teams with akirolabs. Create, Execute, and Monitor Intelligent Category Strategies for Higher Value, Higher Purpose and Efficiency.
Trusted by Leading Procurement Teams and Enterprises
Benchmarks show a much higher value potential in strategic procurement
Exploit the Full Value Potential of Procurement
Industry-proven strategic procurement framework embedded into an intuitive collaboration workflow. Enriched with all relevant internal & external data for insights generation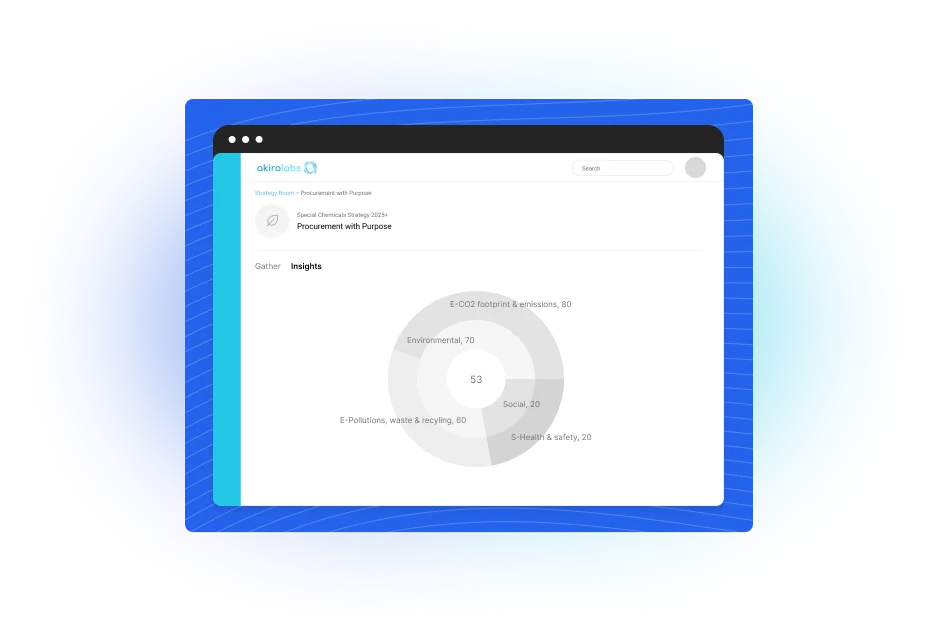 Helping procurement teams accelerate, amplify and sustain business value and integrate strategic procurement in routine
50-90 %
Increased Collaboration within teams
100 %
Mindset Shift to Beyond Category
70-90 %
Stakeholder Buy In & Early Involvement
80 %
Better use of procurement data
What clients and Industry Experts say about akiro
"akirolabs enables us to manage the heterogeneous requirements of all Bertelsmann divisions whilst maximizing the transparency across our jointly defined category strategies."
"…what you have created is significant… there is no doubt in my mind that this is a breakthrough innovation…akirolabs is on a trajectory to eliminate much of the category management function as we know it today."
Leave Behind the
Broken Traditional Approach
Old School Category Management is not Enough. Transformation of Category Management is now one ot the top priorities for Procurement
We Are Recognized By Industry
We are a dedicated team of experts.
Michael Pleuger
Co-Founder, Strategy & Growth
Detlef Schultz
Co-Founder, Vision & Customers
Christoph Flöthmann
Co-Founder, Product & Technology
Tim Ergenzinger
Co-Founder, Finance & Operations
Dr. Oleksandr Kondratiuk
VP of Engineering
Jens Rassloff
Chairman of the Board
Kanti Prabha
Tech & Customer Success Advisor
Warrick Cramer
Serial Entrepreneur & Advisor
Dr. Karsten Machholz
Chair Customer Advisory Board
Fredrick Spalcke
Advisor | Ex-CPO Philips & Huawei
Stay Informed with Procurement Insights
Discover the latest procurement strategies, industry news, and platform updates.
Augment Your Strategic Procurement Today
Unlock the Power of Collaborative Human Intelligence and AI with akirolabs! 
Book Your Demo to Experience Smarter Strategic Procurement in Action